Blog
2014.06.10 at 7.00 PM Ornaments @ SĽUK. Balkanska, Rusovce. Live visuals for music folk-jazz project.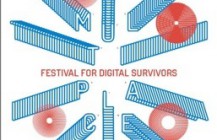 This year, the organizers of the Multiplace festival strive to support connecting and networking of academics and professionals from Czech Republic and Slovakia who are educators in the field of new media and media art.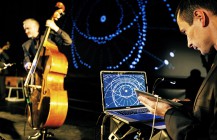 Live visuals made for music project Ornaments. Project merges Slovak folk tradition with jazz and new technologies used in visuals. Photo: Matus Lago http://www.sluk.sk Upcoming event: 10.6.2014 19.00 @ SLUK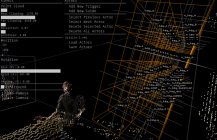 Custom application Frustrum made for students of MediaLab* @ Academy of Fine Arts and Design featuring from 16th of April at exhibition Diversity Required @ Slovak National Gallery.
Contrary Motion Philip Glass early works for organ Mad Rush / Music in Contrary Motion / Two Pages for Steve Reich Organ: František Király Lighting design: Ján Šicko Project page: http://www.devkid.com/?projects=glass http://www.radiohlavy.sk/festival/lineup/ http://www.citylife.sk/festival/radiohead-awards-festival
Calligrapher @ Exhibiton dedicated to Slovak type design and lettering.
Site specific interactive light installation made for exhibition of Slovak type design and lettering.
Duration: from 18th of december 2013 until 2nd of february 2014.
Place: Gallery Satelit, Bratilava – Slovak Design Center.